BY PRADEEP D.M.
Friday 12th November 2021 at 4.30pm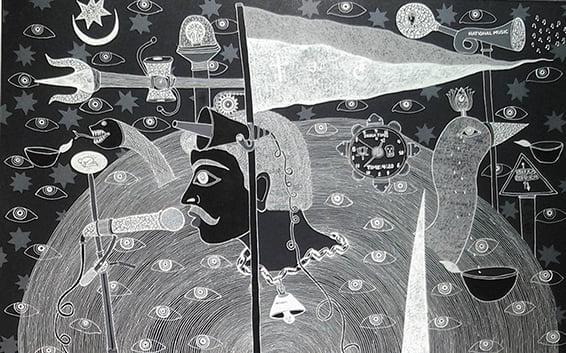 Venue: Multimedia room at Centre d'Art
Centre d'Art, Citadines Auroville Artist Residency 2021 recipient Pradeep Kumar D.M. is a multidisciplinary artist, his work is inspired by the narrative forms and decorative elements related to his native culture, the Lambani tribe.
From his grandmother, Pradeep learned patience and concentration, which the woman needed for the embroidery art, while for him, they are fundamental for his drawings. Another element that distinguishes Pradeep's artistic path and draws inspiration from his culture is that of travel. Originally from Rajasthan, the Lambanis have moved south, where part of them settled in Karnataka. Pradeep has kept alive this tradition of traveling.
Like a contemporary nomad, wherever he moves, his life and his art absorb the qualities of the place. Noises, sounds, smells, images, experiences, encounters, and languages of the new environment become part of his daily life and influence his creations. Wherever he goes, he collects objects, natural materials, or handcrafted materials, which become the support for his artworks.
The material is important because: "It speaks of the roots, speaks of the history of the place, speaks of what is its experience. The roof tiles, for example, talk of the history of my village. My drawings then help and support the storytelling."
Precious for the artist is also the encounter with the people who live in that place and are often wrongly defined as "common": the farmer, the mechanic, the carpenter, the fisherman, etc.
These people, full of knowledge and practical wisdom, become an integral part of Pradeep's work. They are the conduit for learning how to dialogue more deeply with the materials he finds and uses, and become an inspiration for the imagery and the symbols that populate his artworks.
Text by Valentina Garozzo