The poetry of daily life
by Nadia Loury
16th September to 1st October 2022
Monday to Saturday 2pm to 5pm
Opening on Friday 16th September at 4.30pm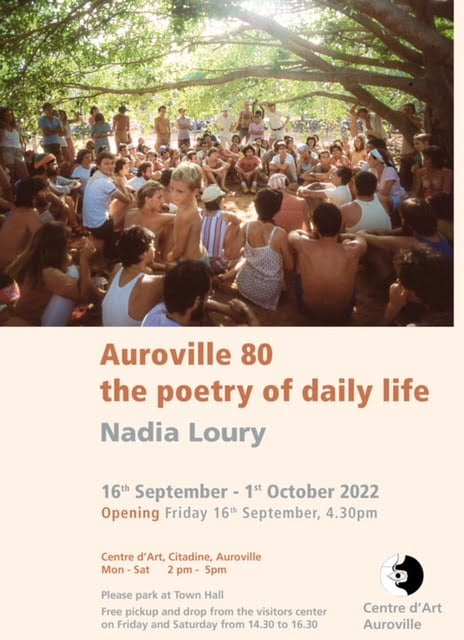 Nadia Loury came first time in Auroville in 1973. She is geographer, photographer and has worked in the environmental field.
She has been President of AVI France for 10 year& In the 1980s, Nadia was a member of the Auroville community, still a "big family" of about 500 inhabitants. From moment to moment, Nadia's camera caught the situations and events that were so revealing of their daily life, that she then shared with her fellow Aurovilians. This "being there" explains the naturalness and spontaneity of her photographs, the variety of situations, and the fraternity and poetry that her shots reveal.
A visual testimony to life in that rough and pioneering context, Nadia's photos chronicle and share the sweetness, joy, mutual support, and energy of the community's united aspiration to live the Human Unity that The Mother desired. Each chapter of the book is introduced with a text that places the illustrations in their context and briefly recounts the ulterior transformation.
The sales of this exhibition will be donated to Art for Land.
Free pickup and drop from Visitor Center on Friday and Saturday from 2.30pm to 4.30pm