by Ashwin Ezhumalai
28th January to 12th February 2022
Monday to Saturday 10am-12pm & 2:30pm-5pm
Opening on Friday 28th January 2022 at 4pm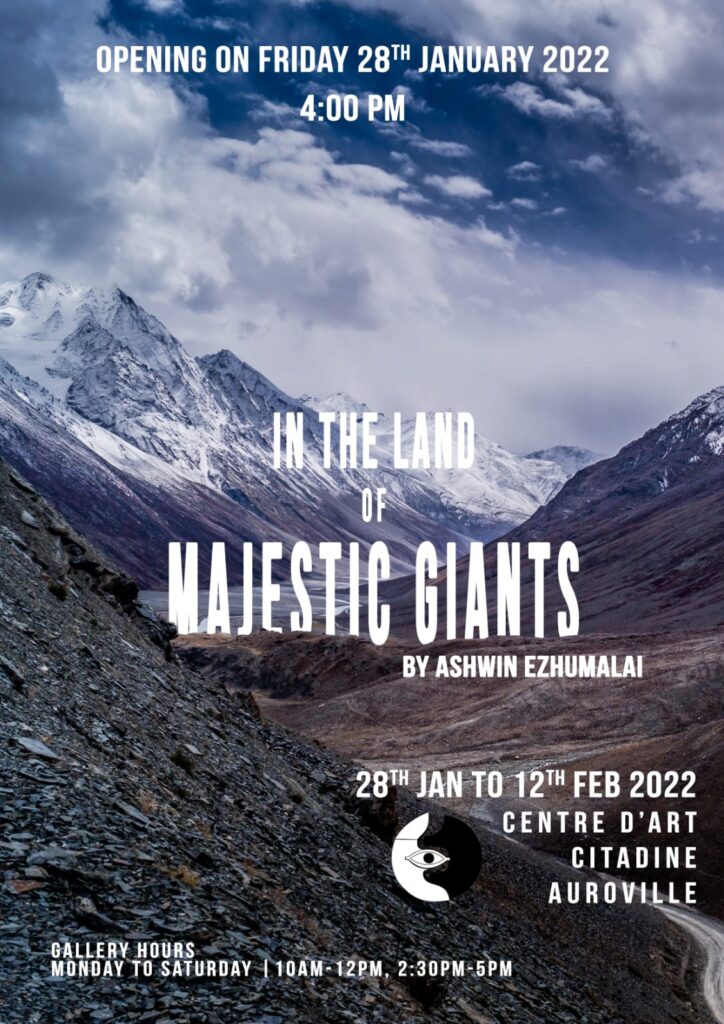 Mountains have always been a fascination of mine since the time I knew what they were. The visuals of the first sight of snow peaked mountains are still clear in my memory. When I had my first opportunity to trek on the terrains of these majestic beings, it was war with myself! It was the toughest challenge and struggle that I had faced, the difficulties were immense. However, in the presence of these tranquil, majestic beings full of life and energy, it became an inward journey, a journey of getting to know myself and discover who I was and who I was becoming; and at the end of the trek the outcome of this journey outweighed all the demerits and left me with a profound experience, a sense of feeling whole and alive! Since then it is a closer bond that I carry with these majestic beings and every time I travel, hike or trek in their terrain the bond becomes stronger.
This photo exhibition focuses on mountains and brings out the sheer beauty, spirit and immense energy that one can sense on these terrains. It presents photographic visuals from some of the rarely visited valleys and passes from Himachal Pradesh. The aim is to give a visual experience of the vastness of the Himalayan ranges along with its varying terrain and diverse landscape below and above the tree line, glaciers, grassy hills and snow-capped mountains. It tries to bring out my perspective and journey with these majestic beings. Moreover, it also tries to highlight some of the treks and travels done by a small group of Aurovilians in these remote, and harsh conditioned landscapes.
To conclude, the installation will portray my journey with photographic visuals of the Himalayas, photographs I've taken during treks and travels through the years from different regions of the Himalayas. It will try to engage the viewers into a visual and yet inward journey to rediscover themselves through these majestic beings.
Ashwin Ezhumalai was born and brought up in Auroville. He's a teacher in Last School, Stage Light Designer and Freelance photographer.