by Saravana Deivasegamani
6th to 20th January 2023
Monday to Saturday 10am – 1pm / 2pm – 5pm
Opening on Friday 6th January at 4.30pm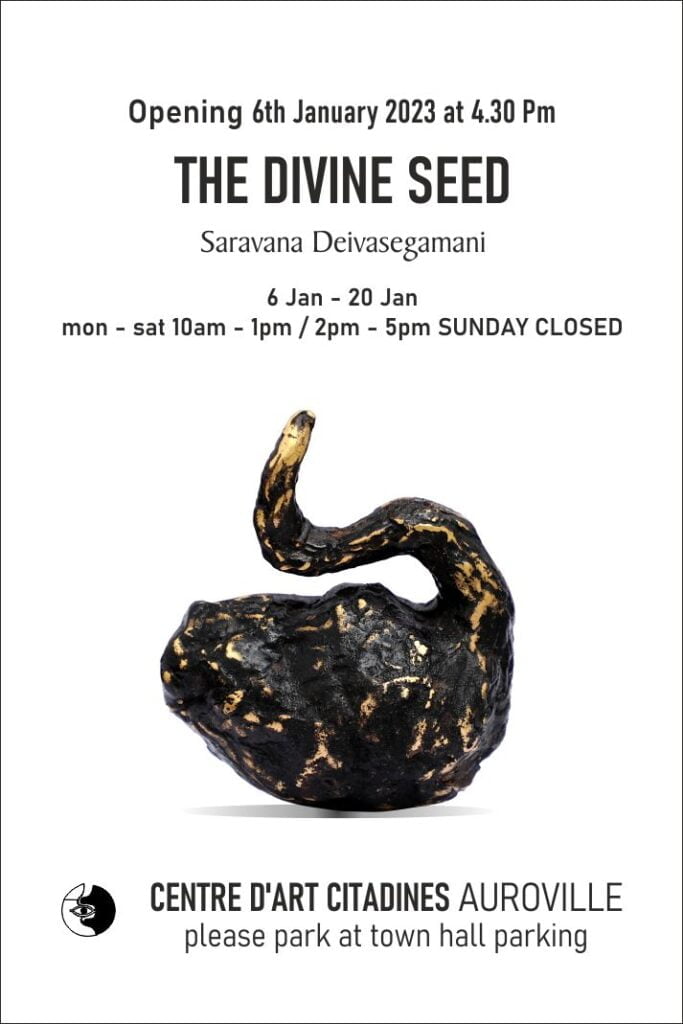 Saravana Deivasegamani's love of nature drives his passion for sculpting. The seed has a special place in his inner meditations. It is not an inert object but a spiritual symbol that connects the human with the divine.
Saravana's solo exhibition, The Divine Seed, is an ode to nature. In this show, the Aurovilian artist presents a set of evocative sculptures and installations inspired by the many forms and manifestations of the natural world. Made of wood, metal, and reclaimed natural material, Saravana's carefully constructed, structurally balanced and visually alluring artworks prove his technical competence, ingenuity, as well as conceptual understanding of man and nature.
Artist's bio
Saravana (b. Puducherry, 1984) is essentially a self-taught artist. He began his career as a metal craftsman and decorative grill designer. Over time, he honed his skills in fine art sculpting through self-study, experimentation, and vigorous practice.
His first major exhibition was held in 2016 at Gallery Square Circle, Kala Kendra (as part of a two-person show with eminent painter and fellow-Aurovilian Juergen Puetz). The same year, his sculptural installation titled 'Creators' made entirely of natural Palmyra seeds won the National Award of the Lalit Kala Akademi. His award-winning work was displayed at the 58th National Exhibition in the National Gallery of Modern Art, Bangalore. He was also invited to the national artists' conclave in February – March 2017.
Since then, Saravana has participated in a number of group exhibitions, artists' camps and workshops in Puducherry, Chennai, Bangalore, New Delhi, and Hampi. He has also conducted lecture demonstrations on how to convert scrap/found material into evocative art objects.
Artist Statement
I am a nature artist. For me, the concept of 'Nature' is intrinsically linked to both my life and work. I have seen, felt and learned how nature can nourish as well as affect human existence. Without Nature, there is no life, no humanity, and no existence.
I spend most of my waking hours in the wild – watching and being one with nature and its glorious manifestations. In my art, I give shape to my reflections, experiences, and wonder of being with Nature. The recent pandemic has made me introspect on the connection between man-made creations and the natural world. In my work, I seek to express my concerns and also find answers to our present dilemmas. I firmly believe in what Sri Aurobindo once said: 'What Nature is, what God is, what man is can be triumphantly revealed in stone or on canvas.'
Saravana Deivasegamani                                                                                                                          
Auroville / New Year 2023