By APARNA ASHOK
9th to 24th December 2022
Monday to Saturday 2pm – 5pm
Opening on Friday 9th December at 4.30pm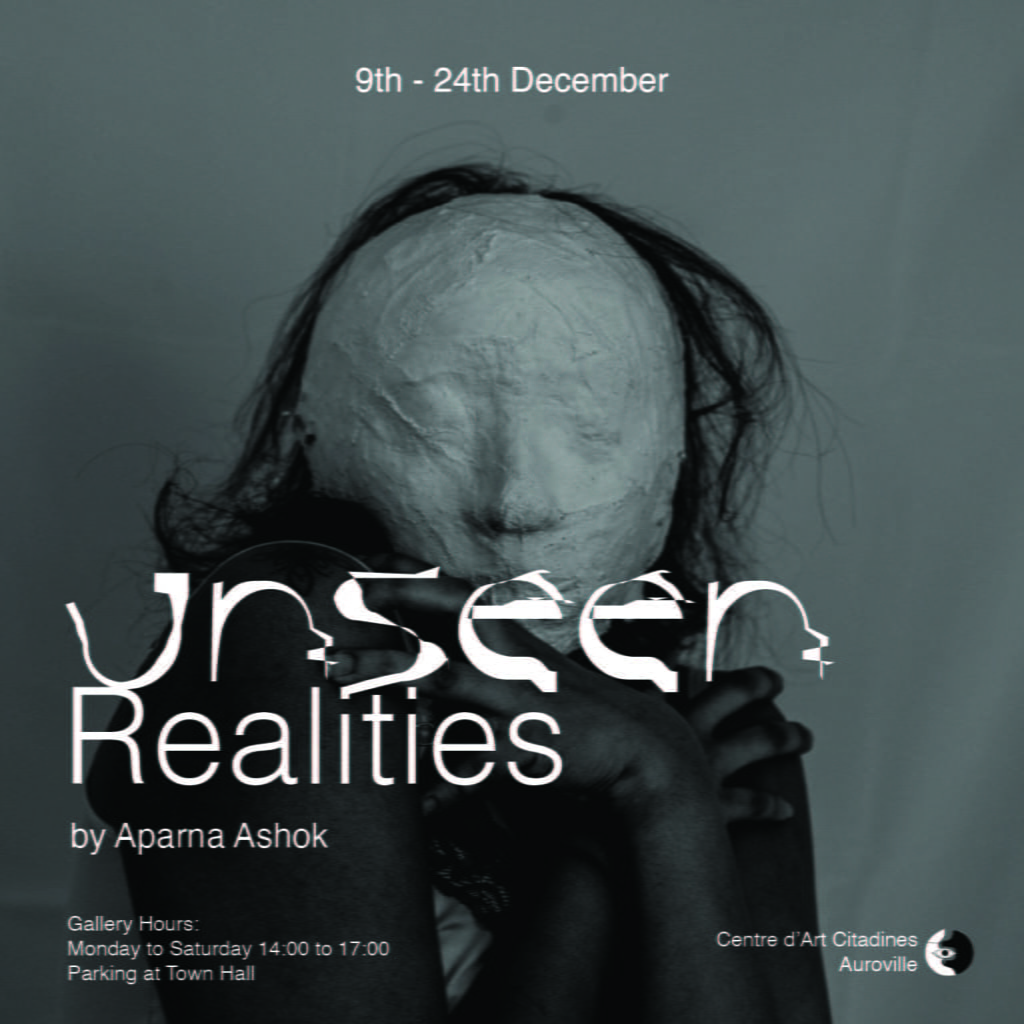 INTRODUCTION
How can you ever know who you are, if you feel like you don't belong?
"Unseen Realities" is an exhibition that draws our attention to feelings of confusion and
estrangement ethnic minority groups are often left with, whilst trying to navigate life in a
predominantly white society.
Drawing on personal experience, the narrative around the work addresses intimate
feelings of 'otherness' faced as an Indian living abroad. The installations invite the viewer
to actively participate and engage with the work and also consider the role of white
supremacy in creating underlying tensions and discourse between concepts of social and
personal identity and cultural racism.
Perhaps you identify with the narrative or see parts of yourself in the subjects. If we take a
closer look at the workings of society, is it fair for us to constantly feel this urge to change
ourselves and to please others to fit in? Why must we have to wear a mask and live a lie?
ARTIST BIOGRAPHY
Aparna Ashok commonly known as Chaos, is a Multisensory artist, self-portrait
photographer and performer who constantly finds herself shuttling between India and the
UK. She is driven by research and curiosity about the complexities of human experience
and identity.
Before graduating with an MA in Visual Communication from the Royal College of Art,
Aparna completed her BA in Visual Arts at Stella Maris College in Chennai, India.
Aparna's work centres around social benefit through the creation of scenarios and
opportunities for interaction. She often finds herself working with themes pertaining to
identity, death and rituals. Her practice is rooted in creating curated designed
experiences.
ARTIST STATEMENT
What's the point in creating work that pleases people? It has no impact, it doesn't change
a thing. People are still selfish and apathetic towards each other. As I explore the different
facets of my practice, I've found meaning in creating work that has the power to disturb,
provoke and disorient, by transforming spaces and altering realties. Times have changed
significantly and we live in a world that is becoming more and more desensitised towards
life and the everyday. I see my work as a rude awakening to people who choose to forget
and ignore the reality we're trapped in.
My curiosity has led me to follow topics revolving around death and identity and the role
they play in society. My work is built on questions, in a way it is a reflection of my
personality. I ask questions to help me better understand myself and the world around me.
My artistic practice is extremely participatory and relies heavily on audience interaction.
This is inspired by the principles behind rituals and ritualistic actions. It's always fascinated
me how rituals have the power to transform a person from one state of being into another.
I employ this method in my work to better engage my audience to facilitate change.