By Rakhee Kane
27th January to 11th February 2023
Monday to Saturday 10am – 1pm / 2pm – 6pm
Opening on Friday 27th Jan 2023 at 4pm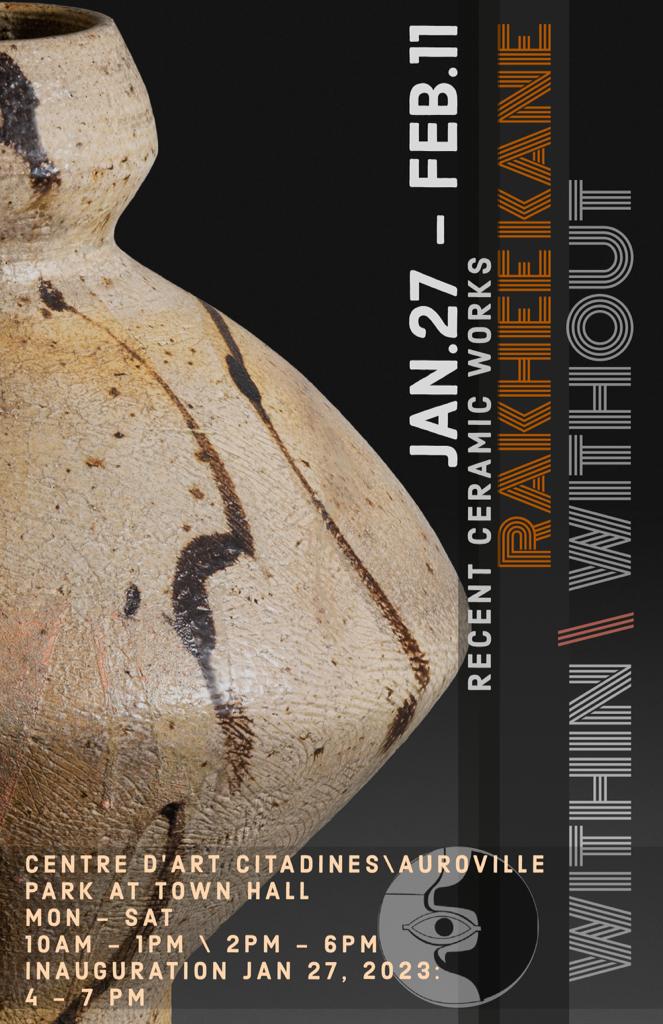 Sharing this series is my way of taking a pause and evaluating my own journey, allowing myself
to touch upon the core of my experience. In this collection of my latest work, several forms have
emerged that reflect the serene atmosphere that surrounds my studio. I draw from nature; its
simplicity, its spontaneity, as well as all its complexities.
By utilising a variety of techniques, adapting them, and engaging with constant experimentation
when creating clay compositions, kilns, and firing methods, I strive to remain on a constant path
of new discoveries and experiences.
Seed pods hold an entire universe within — the entire process of life, diverse yet contained. The
imprints of these pods play a large role in my work. The intricate struggles of every life form
illustrated by nature in these simple pods inspire me ceaselessly.
This collection also delves into the idea of nihility — containers that hold nothingness, the space
within.

As Chinese thinker Lao Tzu says:
"We put thirty spokes together and call it a wheel,
But it is on the space where there is nothing that the usefulness of the wheels depends.
We turn clay to make vessel,
But it is on the space where there is nothing that the usefulness of the vessel depends.
We pierce doors and windows to make a house,
And it is on these spaces where there is nothing that the usefulness of the house depends. Therefore just as
we take advantage of what is, we should recognise the usefulness of what is not."
This nothingness can be transformed into everything, such is the reality of our existence.
My travel adventures over the past decade are chronicled through these large jars and platters.
The painter in me, who has been hidden for a while, emerges having traversed the hinterlands of
rural Indian life and adorns many of the forms in this series. In these lands, women create
mesmerising paintings, sizeable hand-beaten vessels and platters with wonderful spontaneous
flourishes. Repetition and pattern, explored via texture and technique, pay tribute to the way in
which the work of these women transforms the Mundane into the Sacred, defiant against the
perfect, disciplined forms moulded by their male potter counterparts.
The abstract personality of these painted images — meandering lines, flowing strokes,
embellishments, muted colours — on walls, sculptural forms, and floors are a tribute to the
timeless nature of this art form, and the collective aesthetics of India. The embellishments on
each form are enhanced by means of soda firing, cone five terracotta, and stoneware. Each form
is a canvas for experimentation.
The Totem Poles depict various points of my journey; each a place to hold and centre oneself,
they act as anchors that once thrown allow me to float on these moments. There is an unending
dialogue between me and the process that will take me to the pieces I aim to create, which is
mediated by these Totems as stops in my path.
The show Within\Without is my pause point of reference, a place to which my life has brought
me, finally! It is an offering to my mentors, my teachers, and my inspirations! A tribute to all the
discomfort we have to go through in our evolutionary journey, reflecting the nothing and
everything we hold within ourselves, and the forms that we express without!